Fuzzy Moody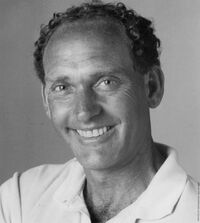 Fuzzy Moody is a stunt actor who is currently based in Hawaii and, as of 2006, is treasurer of the Hawaiian Stunt Connection. He portrayed the uncredited character of repairman in "Numbers" and also played one of the unnamed survivors of the middle section of Oceanic Flight 815. Moody acted in multiple episodes of Magnum, P.I., in a variety of roles. In addition, he performed as Moray, a lookout in War and Remembrance, a television miniseries covering the events of World War Two. Moody also made an appearance as Bill in the episode "In His Shadow" from The Fall Guy.

Moody can be seen on the Season 5 DVD bonus disc featurette "Ben Vs. Desmond", where he is shown performing as a stunt double for Michael Emerson during the fight between Ben and Desmond in "Dead Is Dead".
External links
Ad blocker interference detected!
Wikia is a free-to-use site that makes money from advertising. We have a modified experience for viewers using ad blockers

Wikia is not accessible if you've made further modifications. Remove the custom ad blocker rule(s) and the page will load as expected.