"France in Lost" redirects here. For real life French broadcast and fan information, see France.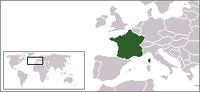 Locations
Paris
Tahiti, French Polynesia
Saint-Tropez, France
Unknown Locations
Native Characters
Trivia
In the French language version of Lost, Rousseau is German.

As a result, Shannon lived/worked as an au pair in Germany instead of France.

Titles of two episodes have French Origins: "

The Little Prince

", a French book, and "

Par Avion

".
See Also
Ad blocker interference detected!
Wikia is a free-to-use site that makes money from advertising. We have a modified experience for viewers using ad blockers

Wikia is not accessible if you've made further modifications. Remove the custom ad blocker rule(s) and the page will load as expected.