Oceanic Flight 815 (flash-sideways timeline)
Talk

23
7,311pages on
this wiki
Flight 815 lands at Los Angeles International Airport

Oceanic Airlines Flight 815 was a scheduled flight from Sydney, Australia to Los Angeles, California, United States on September 22nd, 2004 that occurred in the metaphysical Flash sideways world.
Crew and passengers
The flight
Flash-sideways timeline
After the survivors' eventual death, the Flash sideways was opened up where an Oceanic Flight 815 carrying many of the passengers from the original Flight 815 lands safely at LAX. Many of the original conditions of the Flight 815 flight still occurred, including the turbulence that originally led to the plane crashing. However, in this timeline, the island was underwater for unspecified reasons, thus making it impossible for Desmond to fail to push the button, saving the flight from crashing. The plane was still flying on the correct bearings to pass over the island, however, as the island was revealed beneath the plane, deeply submerged.
Some of the original conditions of the flight and its passengers were altered in this timeline including:
Unseen passengers from original timeline
It is not known if the following passengers from the original timeline were also on the flight in the flash-sideways.
Trivia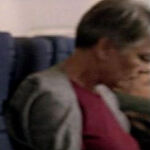 Tailie background cast on flash-sideways 815.