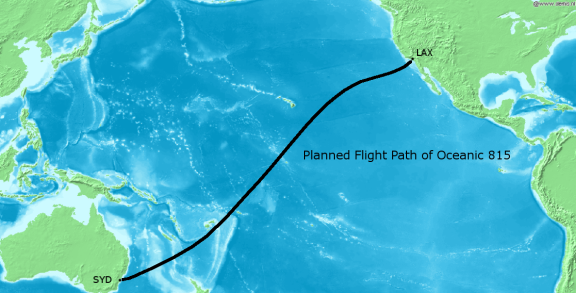 No higher resolution available.
Planned Flight Path of Oceanic 815
Based on a real-world flight plan from FlightAware (http://flightaware.com/), dated Sept 27th:
QFA11
Qantas Airways Limited "Qantas" (Australia)
Aircraft Boeing 747-400 (quad-jet) (H/B744/Q)
Origin Sydney Int'l (YSSY)
Destination Los Angeles Intl (KLAX)
Route 
DIPSO G595 ALLOC KEBAB 3300S 15600E
3200S 15800E 3100S 16000E 2938S 16300E
2600S 17000E 2524S 17103E TERUX 2300S
17500E 1900S 18000E 1355S 17456W 0800S
17000W 0500S 16700W 0300S 16500W 0300N
16000W 0900N 15500W 1500N 15000W 2000N
14500W 2400N 14000W 2700N 13500W 3000N
12500W WEDES B581 FICKY C1177 SXC
Date Thursday, Sep 27, 2007
Duration 12 hours 14 minutes
Status Arrived over 4 hours ago (track log)
Departure 03:25AM GMT 03:35AM GMT
Arrival 08:53AM PDT 08:49AM PDT
Speed Mach .84
Altitude 29000 feet


Plotted on a public domain background from Demis; This background is in the public domain because came from the site http://www.demis.nl/wms/mapclip.htm and was released by the copyright holder. Permission is granted to copy, distribute and/or modify this background since it is based on free of copyright images from: www.demis.nl. See also approval email on de.wp.
Map created using GIMP and submitted to the public domain by its creator: User:Rennerboy.
en: This image has been (or is hereby) released into the public domain by its author, Rennerboy. This applies worldwide.


In some countries this may not be legally possible; if so:
Rennerboy grants anyone the right to use this work for any purpose, without any conditions, unless such conditions are required by law.
Appears on these pages

of
The planned flight path of Oceanic 815 was from Sydney, Australia to Los Angeles, California...
File history
Click on a date/time to view the file as it appeared at that time.
Ad blocker interference detected!
Wikia is a free-to-use site that makes money from advertising. We have a modified experience for viewers using ad blockers

Wikia is not accessible if you've made further modifications. Remove the custom ad blocker rule(s) and the page will load as expected.