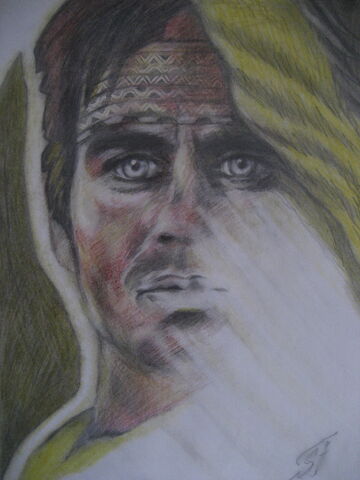 to Jeff Fahey * * *(translation)
When I stay quiet by the window And don't open the door to the dream, The last line of my letter Will be devoted to my Pilgrim. And I'll send it at random, Because I don't know your soul's address. I don't need the paradise of Heavens, Because there's a hell in my heart. And it overwhelms me. I am looking at the beauty of Heavens, I am silent and empty inside. What is worthy for me? It's only the thought that you need me. And that I need you too. I want to cling so your breast; My heart is moaning about you And it is breaking into pieces. What shall I do? I am so weak, I am so tired, I have fallen into a shadow. I wasn't right in everything; And I missed that day. I am enjoying bird's songs, And the grass is covering me. There is only one thing in my heart: I want to be with you now!
Когда притихну у окна, Не отворивши дверь в мечту, Последняя строка письма – Лишь Пилигриму моему. Опять отправлю наугад, Не зная адреса души. Что рай небес, коль в сердце ад, Он набегал на те межи. Смотрю на красоту небес, Внутри беззвучна и темна. Что для меня имеет вес? Лишь то, что я тебе нужна, Лишь то, что ты так нужен мне. Хочу прильнуть к твоей груди, Так стонет сердце о тебе, Что рвет на части изнутри. Что сотворить, я так слаба, Устала так, упала в тень. Я не во всем была права И не успела в этот день. И пенье птиц ласкает слух, Трава склонилась надо мной. Все заглушает в сердце дух: Хочу лишь быть сейчас с тобой! ~ ~ ~ ~
File history
Click on a date/time to view the file as it appeared at that time.
Metadata
Ad blocker interference detected!
Wikia is a free-to-use site that makes money from advertising. We have a modified experience for viewers using ad blockers

Wikia is not accessible if you've made further modifications. Remove the custom ad blocker rule(s) and the page will load as expected.