Image of rooftop from Google Earth
Dole Cannery is a commercial property in Honolulu, Hawaii, and was formerly the site of Lost's Grass Skirt Productions, as well as having served as a filming location. In May 2006, it was reported that the offices were moving to Hawaii Film Studio, and the move was completed before the beginning of production for Season 3.
Background
The Shops at Dole Cannery
Dole Office Building - Note: Grass Skirt Productions (producer of Lost) was located in this building, in Suite 495, before moving to the Hawaii Film Studio.
Castle & Cooke Building
801 Dillingham Building
925 Dillingham Building
Location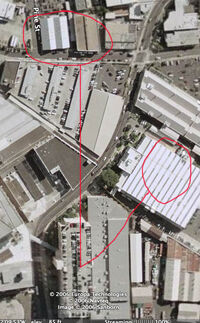 Image of rooftop from Google Earth. Compare background structures visible in scene
External links
Ad blocker interference detected!
Wikia is a free-to-use site that makes money from advertising. We have a modified experience for viewers using ad blockers

Wikia is not accessible if you've made further modifications. Remove the custom ad blocker rule(s) and the page will load as expected.