Dharma Initiative Recruiting Project clues/December 9
Talk

0
Share
Ad blocker interference detected!
Wikia is a free-to-use site that makes money from advertising. We have a modified experience for viewers using ad blockers

Wikia is not accessible if you've made further modifications. Remove the custom ad blocker rule(s) and the page will load as expected.
Return to the main clue page for "The Project".
On this day
A new email was received from Damon Lindelof and Carlton Cuse detailing the content at Dharmaspecialaccess.com. There is a new video called "Are You A Bookworm" with Damon and Carlton where they reveal the title of episode seven of season five, as well as a book that will be read by Ben in that episode. A new Dharma logo is shown briefly at the end of the video.
Email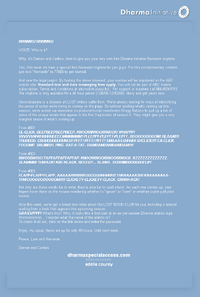 The fourth email.
Transcript
"

RRRINNG! RRRINNG!

VOICE: Who is it?

Why, it's Damon and Carlton, here to give you your very own free Dharma Initiative Namaste ringtone.

Yes, this week we have a special free Namaste ringtone for you guys. For this complimentary content, just text "Namaste" to 77888 to get started.

And now the legal jargon: By texting the above keyword, your number will be registered on the ABC mobile site. Standard text and data messaging fees apply. You will not be part of ABC mobile subscription. Terms and conditions at abcmobile.playp.biz.. For support or inquiries call 866-853-9793. The ringtone is only available for a 48 hour period (12/8/08-12/10/08). Hurry and get yours now.

Onomatopoeia is a disease all LOST writers suffer from. We're always looking for ways of intensifying the sense of action we're trying to convey on the page. So without spoiling what's coming up this season, we've asked our awesome co-producer/script coordinator Gregg Nations to pull up a list of some of the unique words that appear in the first 3 episodes of season 5. They might give you a very marginal sense of what's coming up:

From #501: CL-CLICK. BEEPBEEPBEEPBEEP. KNOCKNKNOCKKNOCK! WHAPPP! VVVVVVWWHHHHHEEEEMMMMMM! PLLEPPT-PLEPTT-PLEPTT. BOOOOOOOOOM! BLAAM!!! THUUDDD. CRUUUUUUUUUNCH! PFFT! PFFT! PFFT! SMAAASSHHHH! SHCLICK!!!! CA-CLICK. FOOOMP. SKLIIIIIISH. PING. RAT-A-TAT. BAMBAMBAMBAMBAM!!!!

From #502: BWOOBWOO! TAPTAPTAPTAPTAP. KNOCKKNOCKKNOCKKNOCK. BZZZZZZZZZZZZZ. SLAMMM! THWACK! KRE-KLACK. BEEEEP... SLAMS. SCRRIIIIIDDDDDDDFLIP!

From #503: FLAPP-FLAPP-FLAPP. AAAAARRRRRRGGGGGHHHHHH!! THRAAAAASH! KAAAAAAAA-THWOOOOOOOOOOOM!!!!! CLICKETY-CLICKETY-CLACK. CRRRR-ACK!

Not only are these words fun to write, they're also fun to spell check. As each one comes up, your fingers hover there on the mouse wondering whether to "ignore" or "save" or whether you're just plain insane.

Also this week, we've got a brand new video about the LOST BOOK CLUB for you, including a special reading from a book that appears this upcoming season. GAASSPPPP! What's this? Why, it looks like a first-look at an as-yet-unseen Dharma station logo. Hmmmmmmm... I wonder what the name of the station is? To check it all out, click on the link below and enter the password.

Enjoy. As usual, these are up for only 48 hours. Until next week...

Peace, Love and Namaste,

Damon and Carlton dharmaspecialaccess.com ENTER PASSWORD adella courey

"
Video