Return to the main clue page for "The Project".
On this day
A new email was received from Damon Lindelof and Carlton Cuse. The new password is emal. The video shown is entitled "Black Suit, White Shoes?" and is a Q&A video segment. At the very end of the video there is a brief preview promoting Ajira Airways, which was updated on the same day.
Email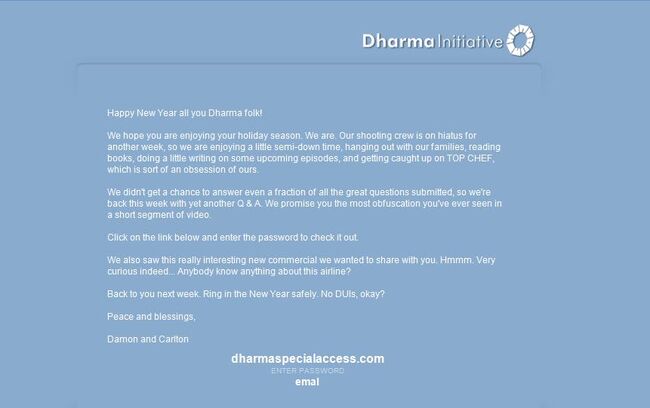 Transcript
"

Happy New Year all you Dharma folk!
We hope you are enjoying your holiday season. We are. Our shooting crew is on hiatus for another week, so we are enjoying a little semi-down time, hanging out with our families, reading books, doing a little writing on some upcoming episodes, and getting caught up on TOP CHEF, which is sort of an obsession of ours.
We didn't get a chance to answer even a fraction of all the great questions submitted, so we're back this week with yet another Q & A. We promise you the most obfuscation you've ever seen in a short segment of video.
Click on the link below and enter the password to check it out.
We also saw this really interesting new commercial we wanted to share with you. Hmmm. Very curious indeed... Anybody know anything about this airline?
Back to you next week. Ring in the New Year safely. No DUIs, okay?
Peace and blessings,
Damon and Carlton

"
Video
Unanswered questions
Ad blocker interference detected!
Wikia is a free-to-use site that makes money from advertising. We have a modified experience for viewers using ad blockers

Wikia is not accessible if you've made further modifications. Remove the custom ad blocker rule(s) and the page will load as expected.