Return to the main clue page for "The Project".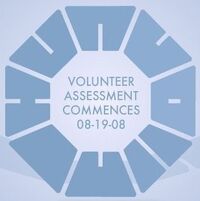 Commencement date for testing.
On this day
A new email was released advising recruits about the commencement date for testing, August 19th.
Email
As of 1:00am EST, a link to a new e-mail has been found at Dharmawantsyou.com, which originally required a username and password to log in. Nothing unusual is in the source code.
The e-mail can now be accessed.
"

ATTENTION ALL RECRUITS
RE: CONFIRMATION OF LAUNCH DATE FOR VOLUNTEER TESTING

I am pleased to announce that, following an extensive security audit of all departments within the Dharma Initiative, I am totally satisfied that DharmaWantsYou.com is now secure. As a result I am able to confirm a date for the commencement of our latest volunteer testing program.

Visit www.dharmawantsyou.com to confirm the launch date.

I have heard from many of you in recent weeks via email asking what will be assessed in the program and what the nature of our latest research is. I have found your enthusiasm and relentless curiosity extremely endearing. However, in the interests of maintaining the integrity of the testing process, I cannot be forthcoming on these enquiries.

Despite this, I would like to affirm to you all that I am extremely optimistic about these upcoming evaluations and believe that they will yield recruits of the highest caliber.

Good luck to all applicants.

Together we can guide the world to a better tomorrow.

Namaste,

Hans Van Eeghen
Head of Recruiting
The Dharma Initiative


"
On the site, the words "Volunteer assessment commences 08-19-08" are shown inside the logo.
Ad blocker interference detected!
Wikia is a free-to-use site that makes money from advertising. We have a modified experience for viewers using ad blockers

Wikia is not accessible if you've made further modifications. Remove the custom ad blocker rule(s) and the page will load as expected.