Ad blocker interference detected!
Wikia is a free-to-use site that makes money from advertising. We have a modified experience for viewers using ad blockers

Wikia is not accessible if you've made further modifications. Remove the custom ad blocker rule(s) and the page will load as expected.
| | | |
| --- | --- | --- |
| | Lostpedia has conducted an interview with Damon Lindelof. To read this interview, please see here. | |
Real World article
(written from a Production point of view)
Damon Lindelof
Date of Birth
April 24, 1973 (age 43)
 
Origin
Teaneck, NJ, USA
 
Job(s)
Creator
Executive producer
Head Writer
Co-host of podcast
 
IMDb profile

Damon Lindelof was one of the show's creators and executive producers, and was the head writer of the show. He co-hosted the Official Lost Podcast with Carlton Cuse.
Background
After creating the characters, the overall storyline, and the first two episodes of Lost along with J.J. Abrams, Lindelof has taken over as the head writer of the show, since Abrams has numerous other projects on his plate. Damon's previous experience includes being the writer of episodes of MTV's Undressed, Nash Bridges, Wasteland, Crossing Jordan, and Ultimate Wolverine vs. Hulk (2006), a comic book miniseries; his first television writing job was with Wasteland. He is a graduate of NYU's Tisch School of the Arts. Lindelof is an avid Star Wars fan, as is Abrams.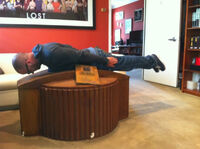 Damon Lindleof planking his hatch coffee table.

Lindelof produced the 2009 Star Trek film which was directed by Abrams. In April 2009, it was announced that he would write the sequel to the film with Roberto Orci and Alex Kurtzman.


Work on Lost
Damon Lindelof is credited as a writer on the following episodes of Lost:

He also wrote the mobisodes "Arzt & Crafts" and "Jack, Meet Ethan. Ethan? Jack". Another mobisode, "The Envelope", was co-written with J.J. Abrams (and was actually a deleted scene from "A Tale of Two Cities").
He and Carlton Cuse have also provided narration for five clip shows: "Lost Survivor Guide", "Lost: The Answers", "Lost: Destiny Calls", "Lost: A Journey in Time" and "Lost: The Final Journey"
Awards
Trivia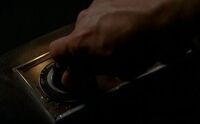 Lindelof's hand as Locke in "

?

"
Personal quotes
| | | |
| --- | --- | --- |
| " | "There are occasions where we basically say "What was Juliet's husband's first name?", and if Gregg (Nations) is not sitting in his office we will log into Lostpedia to get that answer." - On Lostpedia | " |
| | | |
| --- | --- | --- |
| " | "Sometimes we get frustrated ourselves and decide it's time to download a big chunk of mythology. And then the audience says, 'I find this confusing and alienating and too weird.' So then we pull back, and they say, 'You're not giving us enough'." - On trying to satisfy the audience of Lost | " |
| | | |
| --- | --- | --- |
| " | "Here's what you won't see: Globetrotters, zombies, the guy Meredith Grey didn't choose, coconut radios, Laura Palmer, Jack laughing, Desmond running naked through the jungle, the Others' annual talent show, buttons, timers, electromagnetic anomalies, Cylons, cyclones, or clones, nanobots, Captain Jack Sparrow, and time travel." -- On the Season 3 premiere | " |
| | | |
| --- | --- | --- |
| " | "And considering I have now read Bad Twin, Gary Troup got exactly what he deserved." -- On the Identity of Turbine man | " |
| | | |
| --- | --- | --- |
| " | "I will probably be dragged through the streets and burned in effigy if fans have to wait another year for 'Lost' to come back. And who could blame them? Public sentiment may have swung toward the guild for now, but once the viewing audience has spent a month or so subsisting on 'America's Next Hottest Cop' and 'Celebrity Eating Contest,' I have little doubt that the tide will turn against us." -- On the effects of the WGA strike | " |
| | | |
| --- | --- | --- |
| " | "The greatest piece of popular fiction ever produced." -- Featured on the back of recent reprints of the graphic novel 'Watchmen' | " |
Media appearances
Print
Miscellaneous
External links