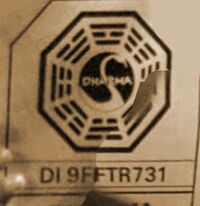 On the cereal package.
DI 9FFTR731 is a code that appears on many of the items from the Swan.
Appearances

In the Supply drop. Note the bottom border also has two codes, 960VKKS on the left, and PL390 on the right.
Additional codes
Products with the code DI 9FFTR731 also all have a bottom border which has two codes.
The one on the bottom left reads 960VKKS, and the one on the right PL390. These two codes also appear in the same location on the DHARMA manuals which have the main code DI 90M1654-21644.
Ad blocker interference detected!
Wikia is a free-to-use site that makes money from advertising. We have a modified experience for viewers using ad blockers

Wikia is not accessible if you've made further modifications. Remove the custom ad blocker rule(s) and the page will load as expected.