Ad blocker interference detected!
Wikia is a free-to-use site that makes money from advertising. We have a modified experience for viewers using ad blockers

Wikia is not accessible if you've made further modifications. Remove the custom ad blocker rule(s) and the page will load as expected.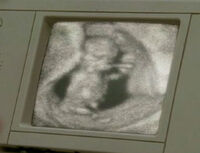 An ultrasound of Aaron, one of the children on Lost
Children and pregnancies are both regular topics on Lost.
Occurrences
Season 1
Season 2
Season 3
Season 6
Characters as kids
Many characters have had flashbacks that feature themselves as children, and some like Charlotte have been seen as children on the Island's flashes:
Season 1
Season 2
Season 3
Season 4
An infant Locke is born, and at age 5, is visited by Richard Alpert. ("

Cabin Fever

")
Season 5
Characters as teens
Some characters have had flashbacks that feature themselves as teenagers:
Season 1
Although she is not seen as a teenager, Kate has a flashback which contains her and her childhood sweat heart, Tom Brennan listening to a tape recorder which contained an entry of Kate and Tom as teenagers (around 12-13 years old). ("

Born to Run

")
Season 2
An eighteen year old Shannon is seen in flashbacks. ("

Abandoned

")
Season 4
One of Locke's flashbacks takes place while he is attending high school and living with his foster parents. ("

Cabin Fever

")
Season 5
Season 6
Characters as infants
Season 3
Season 4
Locke's birth and first day is seen in a flashback. ("

Cabin Fever

")
Season 5
Season 6