Miscellaneous
This section contains featured vehicles not associated with a particular character.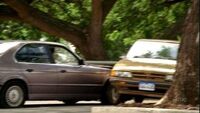 The Golden Pontiac (right) is involved in a collision with Tom Brennan's BMW (left) ("

Born to Run

"). Note the Iowa plates visible on the Pontiac
1987-1991 Pontiac Bonneville
Color: Gold
Background: A golden H-body Pontiac Bonneville, apparently the same vehicle, appeared in accidents in three different episodes in season one, leading to fan speculation of its significance. However, Damon Lindelof noted that although the same stunt vehicle was used, no intentional thread of connection was intended. When asked on a podcast if it was Jacob's car, Darlton joked that the car is Jacob.
More images:
1998 Gillig Phantom bus (40 foot)
Episode: "

Not in Portland

"
Background: This Bus is an actual fleet vehicle, number 361, from TheBus, which is Honolulu City and County's municipal transit company, reflected by the yellow stripe detail used in this fleet. Juliet made a dark joke when Richard Alpert attempted to recruit her to work for Mittelos Bioscience, that the only way she would be able to was if Edmund Burke got run over by a bus. This event actually later happened, as he stepped into the street. The bus had an Apollo Candy ad on it.
More images: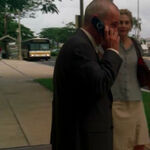 front view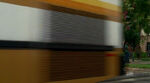 rear view
2003-2008 GMC Savana Cargo Van (unidentified model year)
Episode: "

Tricia Tanaka Is Dead

"
License plate: 3PCI017 (California)
Van number (printed on sides and back): 513937
Color: Yellow (Mr. Cluck's livery)
Background: The delivery van was parked outside Hurley's Mr. Cluck's franchise in Diamond Bar, California when the meteorite struck. Note that the front fascia GMC logo has been obscured. The Lost production crew, like nearly all television crews, seeks to eliminate the visibility of any identifiable logos, such as the logo on Rose's Chevrolet. An exception is Locke's Ford truck, whose rear lid logo is visible in Lost.