Locke
Automobiles used by Locke
1970 Volkswagen Beetle
1980-1987 Ford F-150 (company car)
Episodes: "

Lockdown

"
License plate: Unknown
Color: Brown
Background: Unusually, the logo of the automobile maker is clearly visible on the rear view of this vehicle. Most real-world logos filmed in Lost are intentionally obscured, as was the rear logo on Rose's Chevrolet, and the logo on David Reyes' motorcycle.
More images: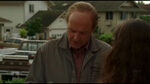 rear view with Ford logo
1986-1990 Dodge Ram
1987-1990 Toyota Camry
See details of this vehicle under the listing for Helen.