Kate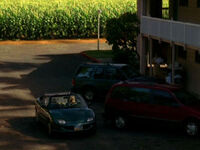 Kate drives a Pontiac Sunfire convertible into a rural motel with Nebraska plates ("

Born to Run

")
Automobiles used by Kate
1995–2005 Pontiac Sunfire convertible

Episodes: "

Born to Run

"
License plate: 7-C153N (Nebraska)
Color: Blue
Background: In the Lost storyline, Although Kate drives in with Nebraska license plates, she has a trunk full of plates, including ones from Colorado (NUB-153), Minnesota (271-K??), Ohio, Illinois (DKM 265), Idaho, and Michigan.
More images:
1979 Honda CB650 motorcycle

Episodes: "

What Kate Did

"
License plate:
Background: Kate drives away on the motorcycle after murdering Wayne.
More images: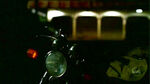 close-up
1988-1992 Buick Regal coupe

Episodes: "

Left Behind

"
Color: Sandstone Gray
License plate: 40N DVB (Missouri)
Background: Though the body style is the same from 1988-1996, the grille on the car was only used from 1988-1992.

1992–1997 Ford Crown Victoria:
See the Edward Mars entry in this article (above) for the US Marshal's car that Kate commandeers ("

What Kate Did

")
1996-2003 BMW 5-Series E39:
See the Tom Brennan entry in this article (below) for this vehicle from "

Born to Run

"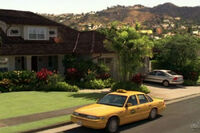 Kate's Volvo S40 is seen in the driveway of her home as she returns from her trial in a taxi cab ("

Eggtown

").
Background: The car Kate drives in the first flash-forward in the Season 3 finale and the first scene of the Season 4 finale. It is also visible in Season 4 in the driveway of Kate's home as she arrives home from the trial via taxi cab.