Christian Shephard
Automobiles used by Christian Shephard
2001-present Mercedes-Benz SL-500 R230

Episodes: "

A Tale of Two Cities

"
License plate: (California)
Color:Silver
Background: According to Themisfitishere's blog (link and link), this vehicle is said to be a 2007 model but could be any 2001+ R230 model.
Based on the wheels and style of the tail lights, it is a post-facelift R230, placing it's date of manufacture on or after 2006. Also, the wheels shown were standard wheels for the 2007 MY and later SL550s.
Other images: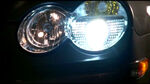 front headlight close-up.
Ad blocker interference detected!
Wikia is a free-to-use site that makes money from advertising. We have a modified experience for viewers using ad blockers

Wikia is not accessible if you've made further modifications. Remove the custom ad blocker rule(s) and the page will load as expected.