Ben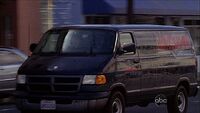 Dodge Ram Van driven by Ben.
Automobiles used by Benjamin Linus
1994-present Dodge Ram Van

Episodes: "

The Lie

","

The Little Prince

","

This Place Is Death

"
License plate: 3PCI250
Color: Black
Background: The van has the company name "Canton-Rainier" on the side. It is an anagram for "reincarnation." It also says "Carpet cleaning"
Ad blocker interference detected!
Wikia is a free-to-use site that makes money from advertising. We have a modified experience for viewers using ad blockers

Wikia is not accessible if you've made further modifications. Remove the custom ad blocker rule(s) and the page will load as expected.