Ad blocker interference detected!
Wikia is a free-to-use site that makes money from advertising. We have a modified experience for viewers using ad blockers

Wikia is not accessible if you've made further modifications. Remove the custom ad blocker rule(s) and the page will load as expected.

Alexandra Miller is Ronie Midfew's assistant and an employee of Ronie Midfew Arts.
Interactions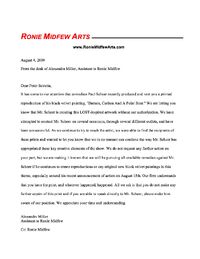 The letter sent by Miller to the media outlets.
August 7th
Miller contacted bloggers DocArzt and Peter from Slashfilm via a letter, informing them of Scheer's unauthorized creation of Lost-related artwork and her company's knowledge of their possession of a printed reproduction of Scheer's Damon, Carlton and a Polar Bear.
August 12th
Miller called Scheer, who avoided a conversation by using regularly spoken phrases usually heard on Lost.
"

AM: Hello this is Alexandra Miller from Ronie Midfew Fine Arts.

PS: DON'T TELL ME WHAT I CAN'T DO!

AM: Excuse Me?

PS: You're just trying to be like the unsympathetic outback travel agent in episode four of Season 1, WALKABOUT.

AM: I'm Sorry.

PS: This is destiny, this is destiny… This is my destiny! Hey, I'm supposed to do this, dammit!

AM: Sir, if you could please just calm down. I just wanna talk.

PS: Umm…A small boy once asked me if I was a bad man. If I could answer him now, I would tell him that I once killed a man to save my brother's life….Mr. Eko.

AM: What?

PS: You all ev'rybody!! You all………ev'…ry…….body??" (NOTE: At this point [Scheer] ran out of recognizable Lost quotes and hung up the phone)

"